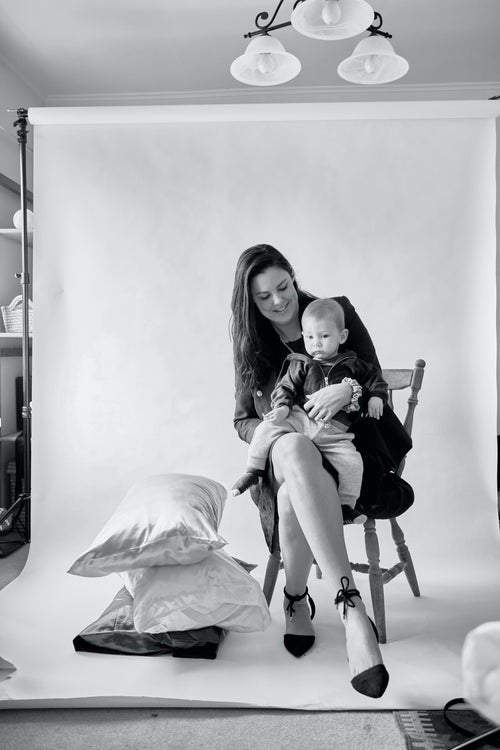 Behind the Brand - Rachel McLean, Manuka Dreams
We caught up with founder of Manuka Dreams to find out the inspiration behind the brand, why we should all be sleeping on silk and the importance of a good night's sleep!
How did you come to create Manuka Dreams?
I have always been a huge fan of a quality silk pillowcase as well as a good night of sleep! My partners family have a farm in Golden Bay where they have a Manuka plantation and I decided to bring the elements together to create the ultimate set up for a restorative night of sleep (that was also beneficial for your skin & hair!) Keeping my skin hydrated has always been very important to me and after feeling as well as seeing the difference even a night makes of sleeping on silk vs a normal pillowcase, I knew I had to share it! 
What was your background behind launching the brand?
I have been on maternity leave for the last 12 months and prior to that, my partner Greg and I had been working on perfecting little elements of Manuka Dreams in the evenings/weekends for a couple of years prior. I had an amazing corporate job in media that I absolutely loved and kept me super busy but after having my baby Owen (who is now 1) I decided it was time to try something different and really pursue bringing Manuka Dreams to life!
Who is Manuka Dreams made for?
Manuka Dreams is made for someone who ultimately loves a good night of sleep as well as someone who cares about looking after their skin & hair. Our high grade silk assists with restoring and protecting your skin and it also promotes healthy hair growth. This includes reducing fine lines, allowing your skin to retain your overnight skincare for hydration, as well as being antibacterial, hypoallergenic, temperature regulating and breathable. Our silk and sleep mist is made for someone who likes to invest in premium quality when it comes to their beauty routine.
Your pillowcases and scrunchies are made of the finest 100% mulberry silk, where do you source it from?
The highest grade Mulberry silk is made in China – we tried many different samples and we finally were able to secure 22-Momme, Grade 6A which is the perfect weight and density for breathable, high quality silk pillowcases. We design our pillowcases & scrunchies here in NZ and we are proud to have our silk OEKO-TEX certified which means it is certified organic and free of any nasty chemicals. I package all of the pillowcase sets in our signature boxes here in Golden Bay and our sleep mist is made, bottled and packaged here in NZ as well.
How important is a good night's sleep to you?
Sleep is extremely important to me – I have always loved a good night of sleep. This of course changed a lot when I had my beautiful baby boy Owen however I wanted to still be able to create the most calming & relaxed environment to fall back to sleep easily after being woken often multiple times a night. Restorative sleep is key to your overall health & wellbeing, so setting yourself up the best you can to achieve that is so important. 
How do your products help you achieve the perfect night's sleep?
For me, an example is in summer when it is muggy & hot at night, high grade silk assists with regulating your temperature. It is cooling in the summer and warming in the winter. Our Manuka Lavender sleep mist is the perfect addition to set the mood and encourages breathing deeply before going to sleep. The Manuka is soothing and antibacterial, paired with the calming scent of the Lavender.
Why is silk the secret to a good night's sleep?
Premium silk minimises friction, allowing your skin to slide gently over your pillowcase causing less disruption. As mentioned above, it regulates your temperature as well as being breathable allowing you to not feel as hot and uncomfortable at night. As our silk is 22-Momme, grade 6A, this is the perfect density and weight for quality silk pillowcases.
How does sleeping on silk support good skin and hair?
Our premium silk doesn't absorb your overnight moisturiser like a normal pillowcase does, so it allows your skin to stay hydrated – resulting in glowing, dewy skin in the morning. It also allows sleep creases to be reduced as it gives your skin a soft surface to rest on and doesn't dehydrate. The same with your hair and scalp, allowing moisture to retain as well as minimising friction (meaning less frizz, knots and tangles in the morning!)
What are your 'dreams' for the brand?
To just keep sharing the incredible benefits that our premium silk & Manuka sets can bring to your beauty sleep routine. Seeing all of the incredible reviews and messages that come through from our happy customers who are getting a better night of sleep is what makes me happiest. Seeing our existing customers then purchasing our sleep sets as gifts for friends & family is the biggest compliment, knowing they have seen the results for themselves and love our products enough to share with someone else! 
I want to just keep growing our brand within NZ and continue expanding overseas – I've been very lucky to already get to work alongside other beautiful brands with Manuka Dreams. We are very committed to only stocking our products with companies we believe in. I'm also really looking forward to continuing to meet many more incredible people along the way!