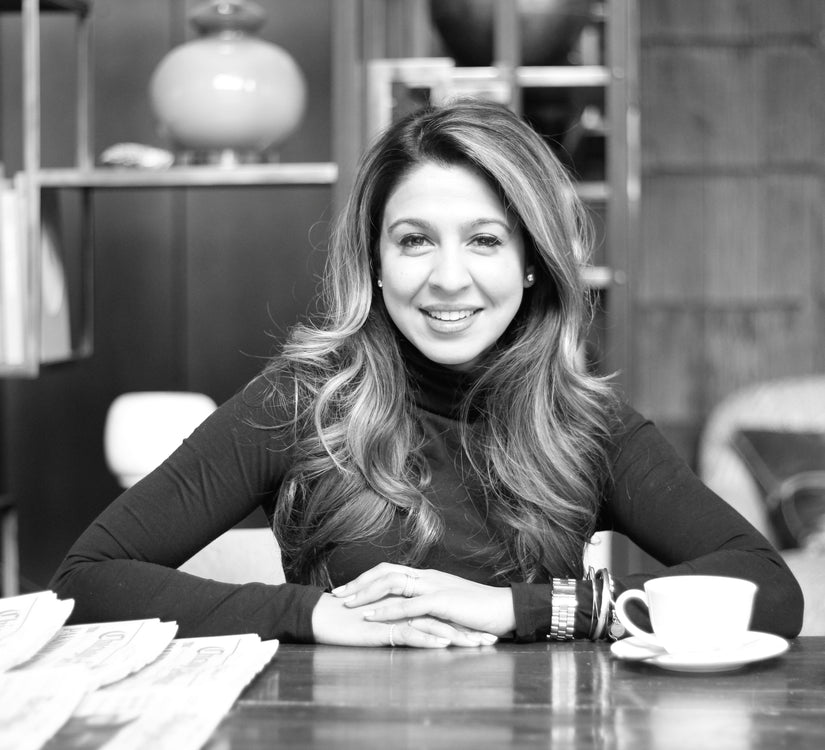 Meet the Maker: Edition #1 - Rikita Kapadia, Cocovít
This is the first blog post in our series of meeting the makers of our beautiful products. First up is the lovely Rikita Kapadia, founder of Cocovít, a company based in the USA. Cocovít sources organic coconuts from India to use in the production of their pure coconut oil-based products.
Welcome! Please introduce yourself.
Hello, my name is Rikita Kapadia, I'm the founder of Cocovit (www.cocovit.co), a coconut oil-based beauty and skincare line. 
Tell me how your business came about.

The tradition of using coconut oil originated in India over 5,000 years ago.  Coconut oil has been a staple in my family for over 7 generations, however I always knew that it was not 100% raw, nor was it as pure or potent as it could be. Unfortunately, not all coconut oils are created equal. Knowing this, I began my search to develop a process which would allow the beneficial nutrients and enzymes to stay intact during the extraction process and in the final product. This is how Cocovít was born.  
At Cocovít we harvest fresh organic coconuts from an eco-reserve in South India, producing an exquisitely pure and exceptionally potent form of coconut oil. Using a heatless extraction process, we are able to maximise nutrient and enzyme potency by leaving the oil raw & untouched - as nature intended. Cocovít is USDA Organic + Fair Trade Certified.

The Cocovít collection currently includes: a multi-purpose raw coconut oil, coconut charcoal face mask, coconut water hydro-mist (toner), orange + basil lip balm, mint lip polish, coconut + rose bath salts and besan + turmeric polishing grains (face exfoliant/face mask).
What has been the biggest lesson you have learnt since beginning your business?
The most valuable lesson I have learnt since the launch of Cocovít is that you can only learn and grow from every challenge you face, and work towards building a better, stronger brand. 
I know it's like asking someone to pick a favourite child, but what is your current favourite product from your range? Why?
My favorite product has to be our multipurpose Coconut Oil. Not only is our oil extremely potent but it has countless uses and benefits. I use it as my face and body moisturiser, face cleanser, shaving oil, hair mask, make-up remover, oil-pulling, cuticle oil and so much more.  My second favorite has to be our new Besan + Turmeric Polishing Grains. This is an Ayurvedic blend of exfoliating and soothing ingredients (chickpea flour, rice flour, turmeric to share a few) to gently lift impurities, remove dead cells and stimulate cellular turnover for soft and glowing skin. The grains may also be used as a brightening and exfoliating face mask.
What are the key values behind your brand?

At Cocovít we have always, and will always, continue to find ways to make an impact to the community in India where we source our oil and majority of our ingredients from. We also believe in providing our customers with products which are natural, sustainable and effective.  
Who do you look up to - in business or just generally in life?

My mother and grandmother have always been the source of inspiration from me when it comes to both my personal and professional life.  Cocovít was inspired by my Indian heritage and specifically my grandmother and mother.  Both of them are not only true believers in coconut oil but also in natural beauty products which are formulated with Ayurvedic ingredients.  It has been something they have passed down to all the women in our family. 
What's the most recent best dish/meal you've eaten?

I am very fortunate that both my husband and mother are absolutely wonderful cooks. So I would have to say it would be homemade meal by each of them - an Indian dish by my mother and probably a delicious Italian dinner by my husband. 
Where would you go on holiday if you had an unlimited budget?

This is a very hard question since traveling is one of my and my husband's favourite things to do.  It is often hard to find the time, given he is also a business owner, however we are constantly looking to escape on weekend trips or long holidays whenever we get the chance.  With a newborn who is only 3 weeks old this may change for a little while. However, my dream holiday would be to travel throughout India. I know this may sound a bit strange given I have been to India over 15 times in my life but I have not had the opportunity to truly explore throughout India. And of course I would love to experience it with my husband and son. 
What is the best piece of advice (for business or just in life) anyone has ever given you?

The best piece of advice I was given prior to the launch of Cocovít was that there is no such thing as an overnight success, and building a successful brand takes time, hard work and dedication.
Many young entrepreneurs look at brands and immediately see only their success and don't necessarily recognise that it took years for these brands to get where they are. Brand building is essential and unfortunately there are no blueprints or instructions in doing so, therefore they often take time.  I truly believe the time and energy you put into building your brand wisely and consistently will ultimately pay off. The end result will be a long-lasting brand, one which people will recognise and remember for the years to come. 

Where do you hope to be in 5 years time?

In 5 years I hope Cocovít is better and bigger. We will continue our research and development of new products to add to our collection. We also hope to partner with additional retailers. And finally, we hope to continue to give back to those in need. 
And finally - why should our customers buy your products?

We believe customers should purchase our products as they are natural, organic and effective. Also, by purchasing our products they are helping those in need in India.   For those new to the Cocovít brand we would recommend they start out by trying our Cocovít Coconut Oil. This product is wonderful for all skin and hair types, men, women and children.  And given the oil is multi-purpose, there is an application for everyone. 
 Shop Cocovít products here.